Copywriting has been always a field of creativity. Creativity in crafting the words to influence readers to take action. Whether it be creative copywriting or flavorless copywriting, work is always for conversion directly or indirectly.
Yes, it is counter-intuitive to direct response copywriting where the conversion is given high priority. Whereas, creative copywriting or brand copywriting is for branding purposes.
What is Creative Copywriting?
The main purpose of creative copywriting is to convey the brand's message. It helps in branding through some creative words or sometimes without any words.
Without words, copywriting?
Yes, as I said that copywriting needs creativity and if you can convey your message with just some illustrations or pics then you may not have to use any letters at all.
Now you may ask that in the introduction part I said that creative copywriting leads to conversion directly or indirectly. Then here is the explanation to your doubt- with the creative copywriting if you could establish your branding in people's mind then they will remember your mind. And this is what the work of creative copywriters is.
Creative copywriters try to position the brand in people's minds with creative techniques.
What makes creative copywriters different?
Creative copywriters think differently
Yes, you may say they walk upside down. And then and there you notice the creativity when you see something different.
Make a gathering of people wearing white clothes and among them keep a person wearing red clothes. The person wearing red clothes will definitely stand out.
And, this is where the USP can be highlighted.
USP, the Unique Selling Proposition is what will help your brand break the noise.
If you fail to provide USP then you are the same among others, nothing unique.
If you can't provide something different then you can't create the difference.
Creative copywriters are the brand makers
Your website's home page or your brand's logo, creative copywriters use their creativity to make your brand impressive and memorable.
Positioning a brand requires that it's relatable to the target audience.
The use of headlines, taglines, and slogans for ads all require strategic thinking with creativity to have good branding for your brand.
Creative copywriters are the messengers
Creative copywriting helps brands in conveying their brand's message to their target audience. Creative copywriters use their creative hands to craft a copy that resonates with the brand's target audience.
Such creative copies make people remember it well.
Here's an example-
In past, Coca-Cola had run a marketing campaign, 'Cold drink means Coca-Cola'. In this slogan, they tried to associate cold drinks with their brand Coca-Cola. So, that whenever someone reminds of cold drinks then Coca-Cola should come to their mind.
Creative Copywriters are the researchers
To know and understand the USP of the product, proper research is necessary. Not just for the USP of the product, along with it need to understand the buyer's persona.
When you understand the consumers' desires and need you can craft the copy that resonates with them.
The copy would be able to create a bonding with prospective customers when it is designed for them.
What creative copywriting is not for?
I have already mentioned in the intro part that if the conversion is your priority for the marketing campaign then the creative copywriters won't be helpful to you. Because creative copywriting aims at branding.
So, never misunderstand creative copywriting with conversion-optimized copywriting.
I hope it would help you to make a better decision while hiring a copywriter for your marketing need.
If you're prioritizing branding then creative copywriting is what you need.
Now let's see some examples.
Examples of creative copywriting
Apple's iPhone creative copy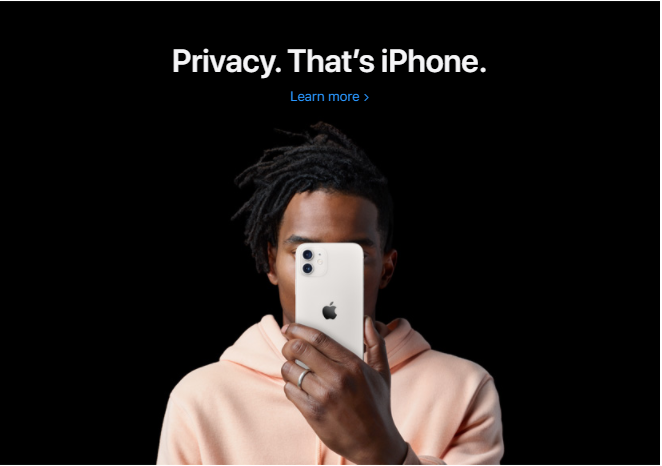 Just a simple line 'Privacy. That's iPhone.' and how cleverly they explained about their brand.
Nike
Oasis
So, here is what you had to know about creative or brand copywriting.
Let me know in the comment section if I could add some more points to it.